Children's Plastic snow sledge, snowboard
Children's plastic snow sledge
materials PP(

cold-resistant- 30 °C and resistance to UV

)
Size:H52

x

W33.5cm
Any color
Can screen printing, pad printing, thermal transfer, watermark or other special printing, print multicolor LOGO(any color and size)
Meas:53X34X19cm,QTY:50pc/CTN,G.W/N.W.:10/9.5kgs
A real hit of this season! Here are all characteristics of an ideal carriage were connected! Sledding like a pro - simple - that's race, the children's slide, the new slide is the only of its kind with Race, curves with radii of extreme mobile. An ultimate toboggan fun for kids! The pure snow fun from high quality plastic. Race is stable, very safe and has a beautiful, exciting form that draws the attention of every child ... Race has brakes that allow an effective leader and brakes. A fantastic and recommend reliable product that is sold from the beginning, very successful.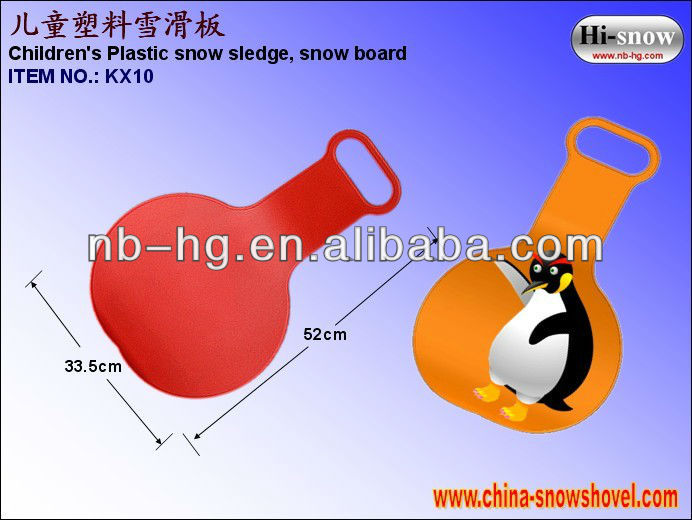 other styles: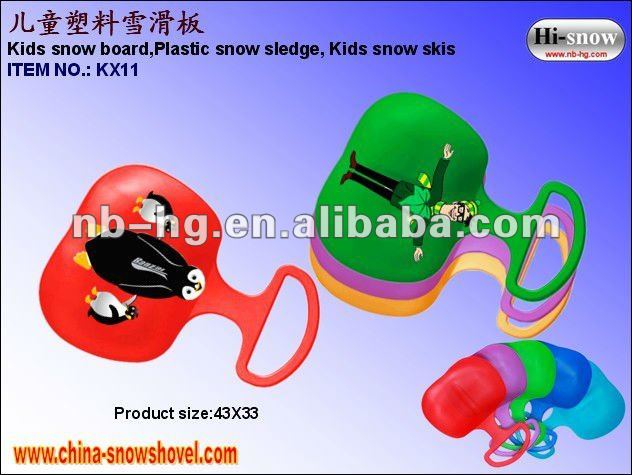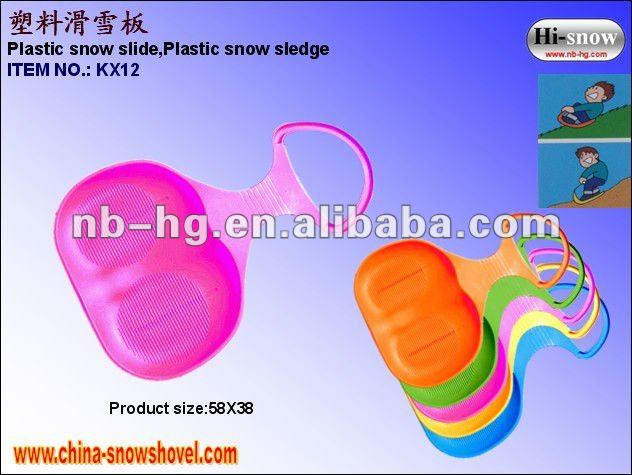 Huaguang have established a good reputation in the industry and gradually established its leading position.Our products are mainly exported to countries' supermarkets in the world and industry buyers.Our products sell successfully in USA, Canada, Germany, Britain, Poland, Sweden, France, Belgium, the Netherlands, Spain, Norway and so on. At the same time in some developing countries, we gradually had some good sales and also been recognized by a number of large buyers, established a good cooperation relations, such as in Chile, Brazil and so on. Major buyers include Auchan, Wal-Mart, Carrefour, Meijer, CTC, COFA, COOP, Ahlsell, BOLIST, Tesco, Target, Am-Tech, etc. All these are due to company's strong R & D team, who are familiar with the industry natures, that ensure continuous reliable high-quality new product launch. Our aim is "There is no best, only better" and "Think in customer think". And we strictly control every aspect of production, based on every detail, to eliminate unnecessary waste, which is our space for survival and development.
Our company has 80T to 800T injection molding machines, presses, lathes, ultrasonic welding machines, CNC hydraulic three-dimensional bending machine, riveting machine, automatic high speed blister packing sealing machine and pipeline. The total number can reach 60. In injection molding and mold field, we have a professional product and mold design team that can help you solve a variety of issues in the new product development process. And we have CNC, EDM, CNC drilling and other large-scale precision CNC die manufacturing equipment, which can provide you samples, drawings, product design as customers' requirement, molds manufacture and so on.
Using Huaguang products can provide optimal,long-term sustainability of new products and technologies to upgrade the industry, to ensure the best interests of customers.
Cixi Huaguang Plastic Electrical Appliance Co., Ltd. is China's most famous winter supplies independent R & D and production companies.