stirling engine generator for sale with Integrated Fuel Tank
Specification:
1) Engine: ,generator with Cummins engine..
2) Alternator:(Stamford, Leroy Somer, Marathon, ENGGA brushless alternator) 3 Phase 4 Wire, Brushless, H class Insulation, Self-Exited ,IP23 Protection, AVR regulation, Voltage deviation: ±0.5%, THF<5%,low radio interference.
3) Output range: 20kva to 2000kva(prime power)
4) Frequency: 50 & 60Hz
5) 3 Phase 4 Wire & 1 Phase 2 Wire
6) Speed: 1500rpm & 1800rpm
7) Three Phase Voltage Available: 208V / 220V / 230V / 240V / 380V / 390V / 400V / 415V / 440V / 460V / 480V . Single Phase Voltage Available: 100-250V
8) Key start panel control system as standard, digital auto-start panel is optional
9) 10-hour operation base tank
10) Optional open type or silent type or trailer type or Light Tower
11) All generating sets are gone through rigorous testing before being released to the market place, including 50% load, 75% load, 100% load , 110% load and all protection function (overspeed stop, high water temperature, low oil pressure, battery charging fail, emergency stop)
Engine Features:
1. Cummins engine
2. Multi-cylinder in-line or veer engine, 4-stroke, direct injection
3. Naturally aspirated, turbocharged, water cooled or turbocharged with air intercooler
4. Machinery or electronic governing
5. Fuel injection pump
6. Electric motor starting system
7. Forged steel crankshaft, cast iron cylinder and replaceable wet type cylinder
Alternator Features:
1. World famous brand AC alternator: Stamford,
2. Brushless, 4 poles, rotation magnet
3. IP23(NEMA1) enclose is standard for all industrial alternators
4. H class insulation system
5. AVR self-regulated, voltage regulation rate: ≤±1%
6. Simple installation and maintenance with easy access to terminals, rotating diodes and coupling bolts
7. Wide range of flange adaptors and single bearing disc coupling
8. Radio interference restraining accords with the stipulation of VDE0875-N and ISO8528
9. Moisture proof, sand-proof, dustproof, salt-proof and vibration-proof
Control Panel:
1. Automatic control panel , LCD display
2. Four protection systems
3. Emergency stop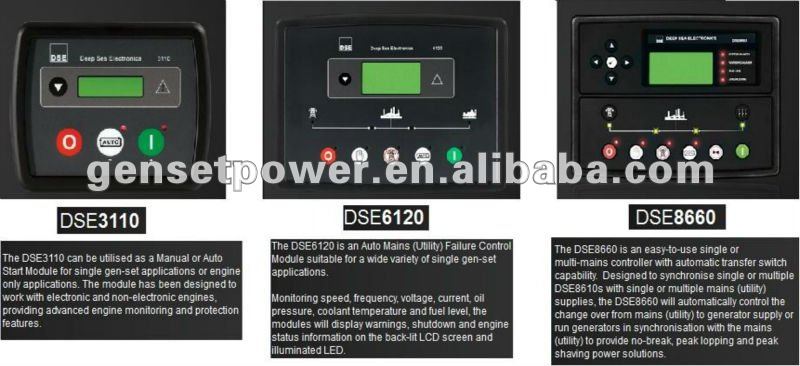 Accessories
1) Standard accessories: Standard 40 radiator mounted on skid, Common steel frame, circuit breaker, damper, exhaust silencer, flexible pipe, battery and connecting wires, Standard tools kit, operation manual and document.
2) Optional accessories: Engine coolant and oil heater, alternator space heater, cooling for heat exchanger, communication interface, battery charger by main supply, daily fuel tank, ATS and paralleling system, soundproof canopy and moving trailer.
Warranty policy
Guarantee for one year or 1000 hours whichever reach first from ex-factory date. During the guarantee period, Genor will provide the free easy-damageable spare parts of diesel engine caused by our quality of production or raw material. After expiration, Genor provides cost spare parts maintenance of Stirling engine generator .