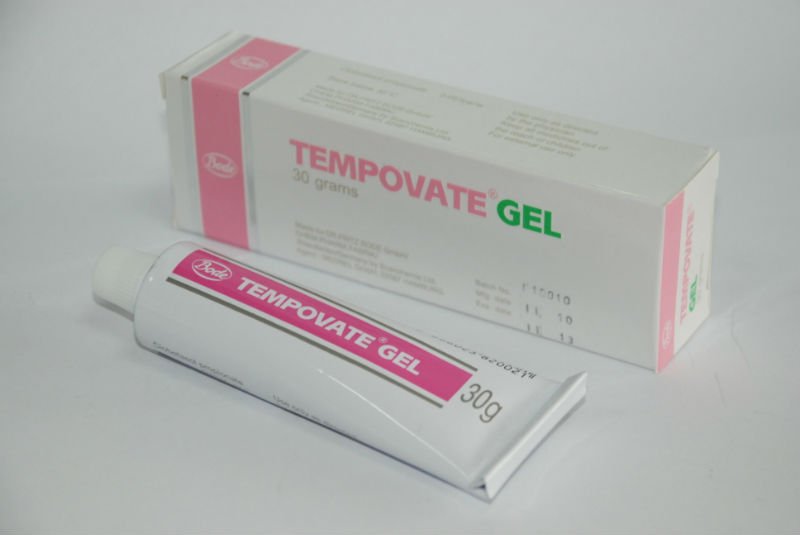 Presatation
Temprovate gel contains 0.05% W/W clobetasol propionate.
Temprovate gel is a slight pink in appearance.
Actions:
Anti-inflammatory, anti-allergic,antipruritic.
Indications
Short-course treatment of more resistang dermatoses eg
psoriasis, recalcitrant eczemas,lichen planus,discoid lupus
erythematosus, and other condition which do not respond
satisfactorily to less active steroids.
STORE BELOW 30 °C
KEEP ALL MEDICINES OUT OF THE REACH OF CHILDREN
USE ONLY AS DIRECTED BY THE PHYSICINE
FOR EXTERNAL USE ONLY
| | |
| --- | --- |
| Desription: | We are specialized in the development,manufacture and sales of the balm.The product adopts the Asian local menthol as the principal raw materials,coupled with special technology. The Balm is a time tested, proven,pain balm with only natural ingredients containing Tailparni Oil, Pudina Pholl & Gandhpuro Oil which acts as an analgesic, antiseptic and sedative to provide relief from Headache, Bodyache, Nasal Congestion, Muscular Aches, Rheumatism, Bronchitis, Fever, Common cold and Stiff Neck.The Balm is pure white & Free from colours & does Not stain clothes. And it is free from stickiness. |
| Function & Characteristic | It is effective in antihypnotic, refreshment, exorcising of filth disease, guarding against miasma, diminishing inflammation and swelling, and alleviating pain and itch. |
| Indication: | It is for the treatment of influenza, cold, headache, dizziness, sunstroke, rheumatism, gout, neuralgia, toothache, slight burn, sea-sickness, mosquito bite and insect sting. |
| Administration: | Apply some of the balm on the affected parts. For headache, it should be applied on the temple and rear neck, it would be more effective if rub the affected parts gently. While at work or on trip, apply some on the temple and around the nostrils, it would make you feel refreshing and more energetic. |
| Caution | Quick Relief From Headache,Body Pain, Cold, Nasal & Chest Congestion.The Balm is completely safe, Nontoxic & Non allergic and it is an Ayurvedic propriety medicine for external use only. |
we are a professional company manufacturing various kinds of balm and can offer competitive price.